Dear VW-friends,
I don´t know if Elton John really couldn´t think about a more glamourous English car but a Ford Cortina when writing this song in 1990. Is there something masochistic in the feelings of the British when reflecting about their car industry? It seems to me that it is exactly this way and my forever favorite TV-show (beside Beavis and Butthead of course!) TopGear confirmed my impression. Clarkson & Co. couldn't resist any opportunity to show their disrespect for their own country´s automobile ambitions, just check out this example: https://www.youtube.com/watch?v=bf7q8lWEd-o
But there is hope for the sore British automotive soul, because here comes a man who can cure this damaged reputation by his magnificent skills in reconstructing a highly desirable car from some poor leftovers or sometimes even from nothing but some bare sheets of metal. You know what´s going to follow next, a new chapter of Mark Spicer´s stunning body work on the Samba.
Remember the post of October 2nd ? Mark saved the lower part of the Samba´s long side and even brought a lot of the original paint back to the daylight. Here is the next step, the upper part. Needless to say that this is even more complicated due to the four window frames, but nothing seems to be impossible for Mark. Just have a look: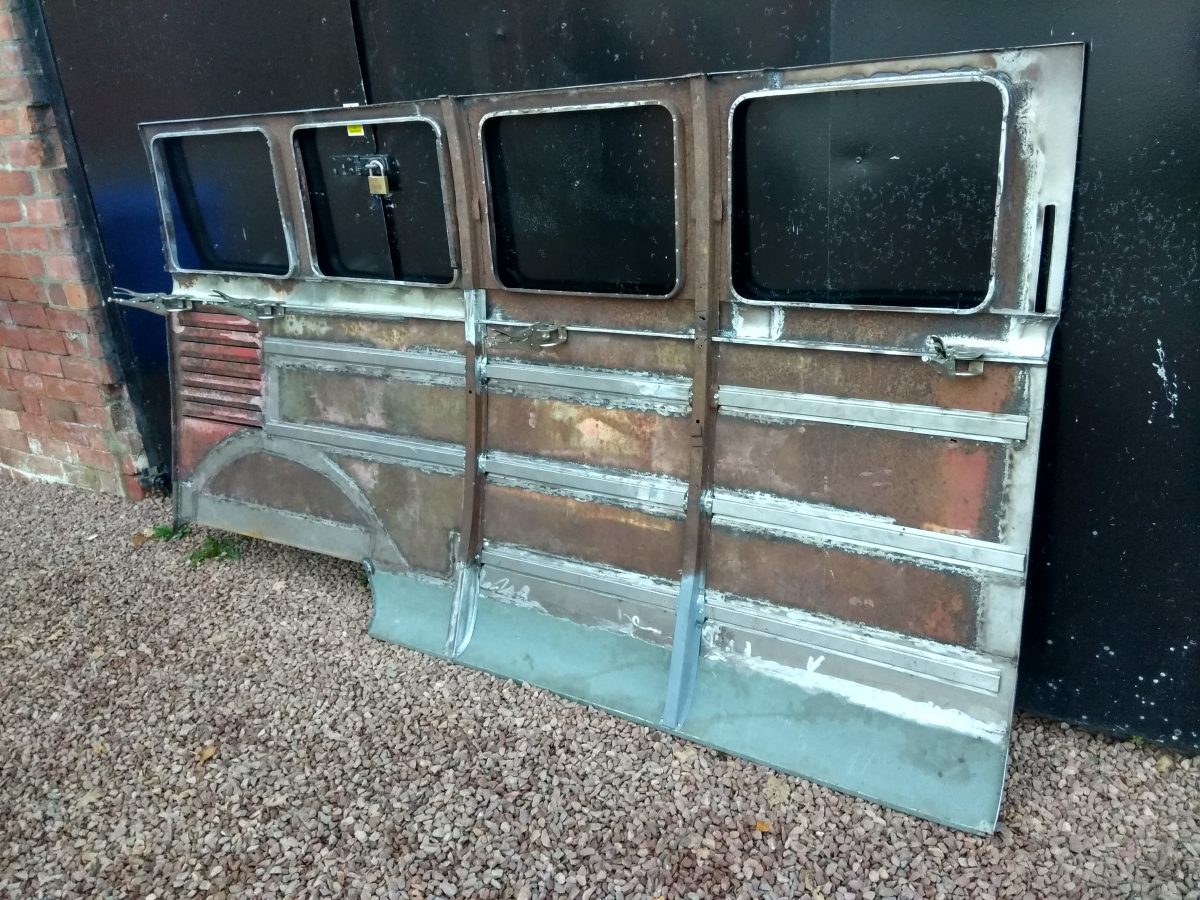 This inside view of the long side panel is a pretty good proof that there really is some original substance surviving and we are definitely not creating a soulless clone around a famous VIN-plate. Isn´t it fascinating how Mark stabilized the fragile skin by carefully welding in the reinforcement bars? OK, this is just a good body work some others could do similar, you might say. But now check out the outside: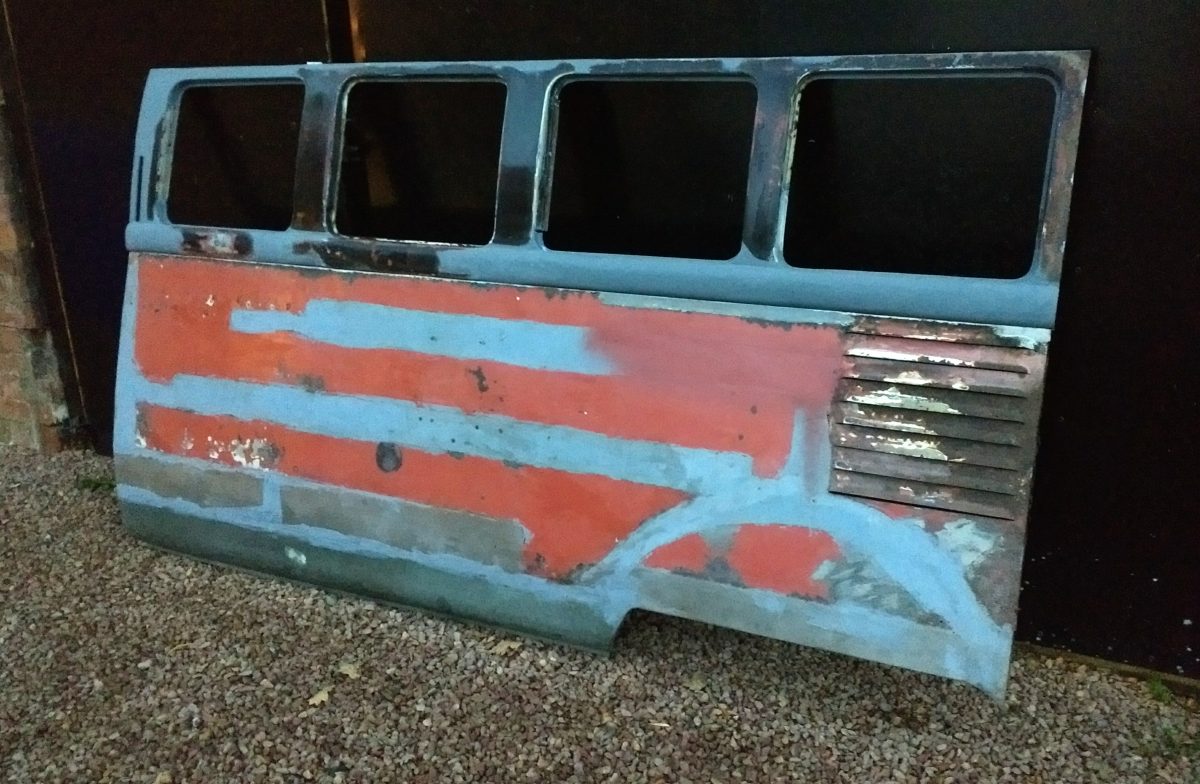 This is so much more than body work! Bringing the sealing wax red of the lower section back to the daylight was complicated enough, but to save the chestnut brown of the upper part is nothing but a miracle! You have to know that the factory painted 1951 the Samba in the first step entirely sealing way red, and then added a much thinner layer of chestnut brown in its section just on top of the red. Can you imagine how tricky it is to scratch of the later resprayer of blue, yellow and beige while NOT scratching off the extremely thin layer of brown which is located on a relative solid layer of red of the same age?
I don´t know how you feel when you compare the picture above to the one below showing what we started with in May 2017, but this result here is much more than I ever could imagine and it makes me very happy.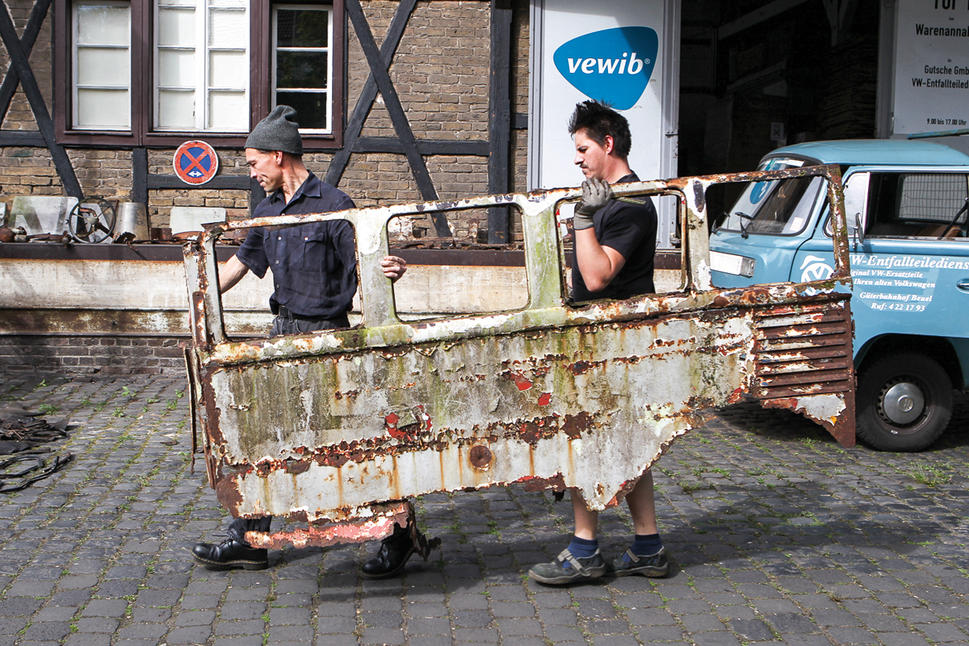 To save as much as possible of the surviving material was always the first principle of the project. But what to do when there is no surviving material? Well, you got to create it, just the same way the missing section of chassis were created. But manufacturing a massive chassis rail is a relative easy job compared to the challenge Mark was faced with next. Read here how Mark expressed the situation in a mail he sent:
I decided as I'm on a bit of a roll with the Samba that I would carry on. Getting the long side ready to be mounted on the chassis and bulkhead seemed the obvious choice but how can I mount it to the bulkhead with no B post?
Well I decided not to buy one and to make one for the Samba. So today armed with a few hand tools and a flat sheet of steel I made one …I have made many panels for barndoors by hand but never a B post so after puzzling the job I got on and made this…I am also mostly through the part that faces the inside drivers door , the two parts mount together to form the post but I will send you pictures of that when I hopefully finish it tomorrow.
Just see the pictures Mark added to the mail: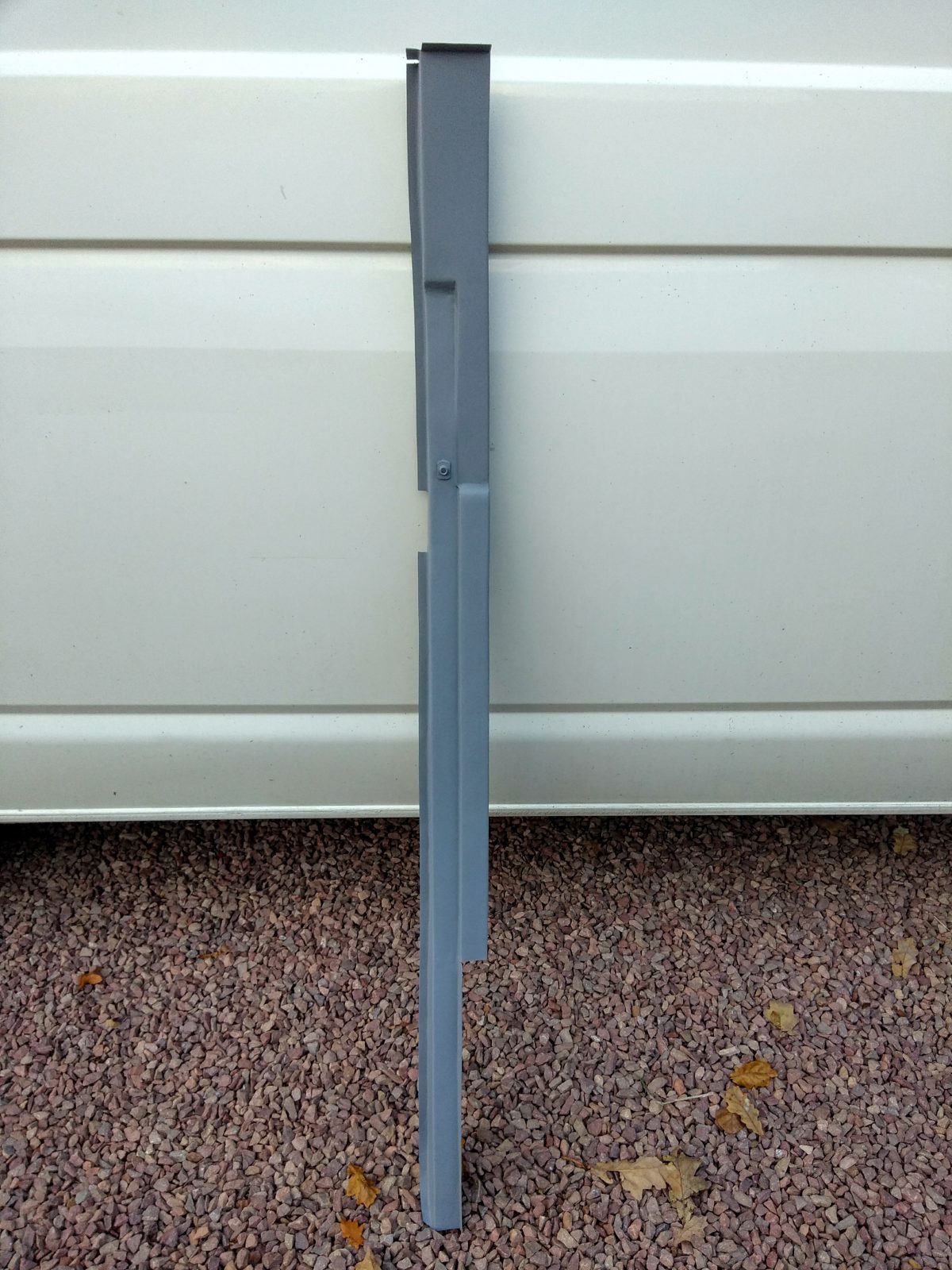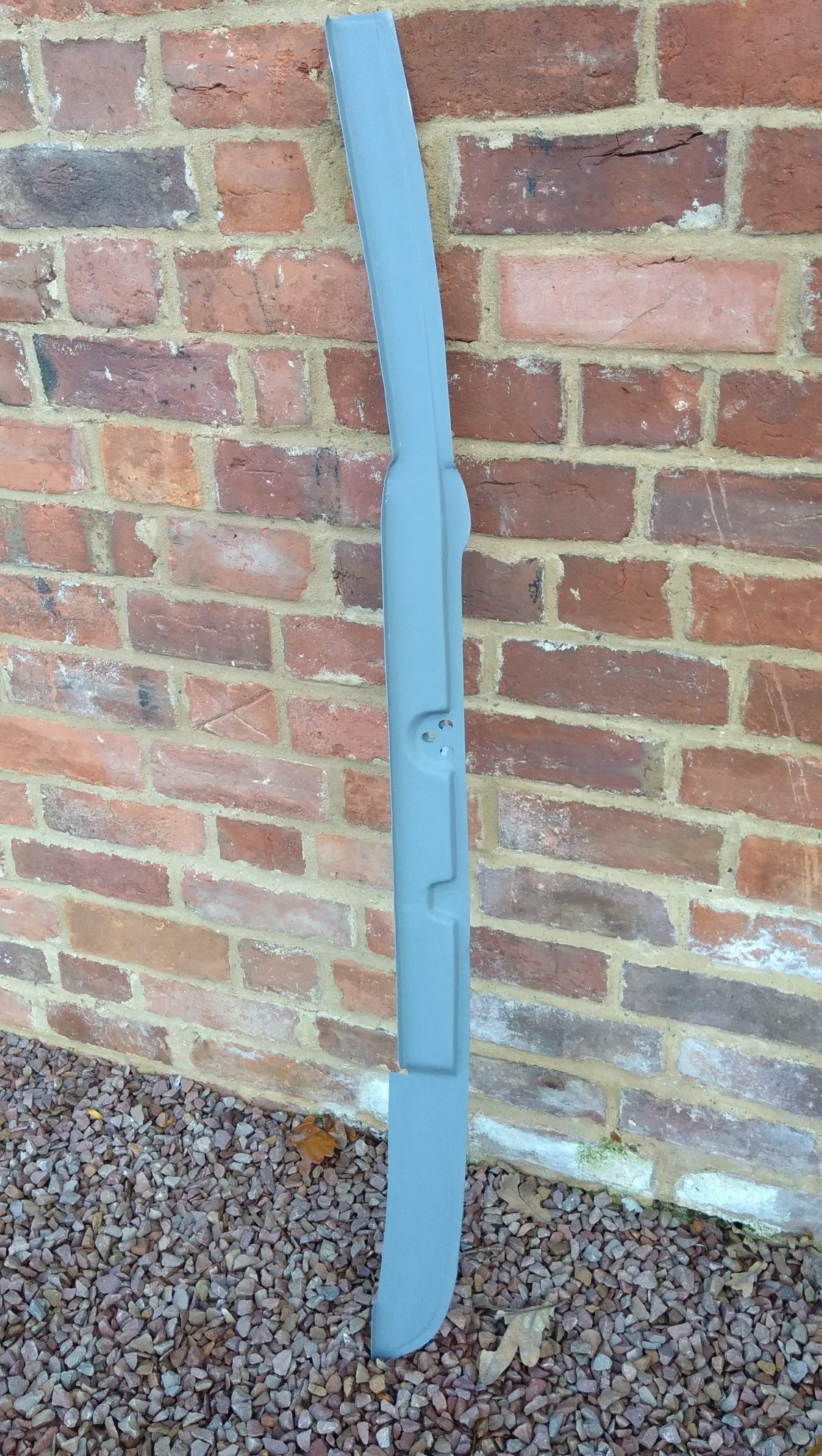 Too bad TopGear was discontinued, because it didn´t work without Clarkson who was fired due to some f*** PC dickheads. I am sure the show would feature Mark´s work today as a proof that England can create a good car of course and Britain has some brilliant petrol heads as well as Germany has. They just must not be hampered by a stupid management.
best regards from Bonn
Florian
Hits: 0